After reading many posts in the Etsy forums and articles, I figured out the best success tip for selling online!
Awesome
pictures
! Duh! Well, everyone knows that and there are so many articles out there about how to take pictures. This is one of my personal favorites from LiciaBeads' blog:
Oooh, nice pictures.... how do you do that?
Licia has beautiful pictures!
Then, my friend showed me this setup and
tutorial for Swarovski crystals
: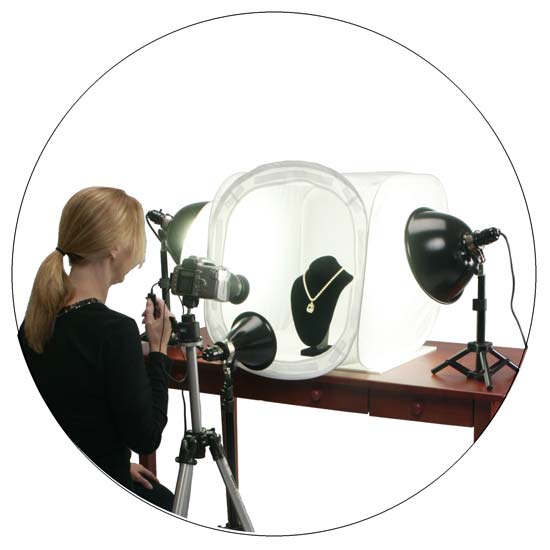 I
want it
sooooooo bad. But the whole kit is like $300. Just the cube (small for jewelry) is $55. So, I started my adventure for the
ultimate (cheap) lightbox
! There are so many tutorials out there, ones that use
cardboard boxes
, ones that use
white boards
,
collapsible ones
and even one that uses a
cooler
!
My wonderful fiance made one out of cardboard box for me. That seemed easiest and we have a lot of them lying around. I used tissue paper 'cause I couldn't find the cloth that one of the tutorial was talking about. Here's the end result and a picture taken using this light box.
I was pretty happy with it! But, of course, that didn't last long. There are a few flaws:
The lights weren't bright enough.
It's too fragile. My fault for using the tissue paper.
The bottom of the box is uneven so it's hard to position things.
My really shiny pieces reflect the brown edges of the box!
So, I started looking at other options (Sorry, baby, I know you worked hard on this). I wanted (my baby) to make the collapsible one but...that looks like a lot of work. I would rather make jewelry and he would rather play basketball. :)
One day I went to target and saw this white box. It's a little small, but I like how it has little holes at the edges. That can be good for hanging things. The box is around $12 I think. Still cheaper than my dream light box and no work involved!
Look at this. The same earrings in this light box. I didn't even realize how dark the other box was till I saw this picture!
Well, I am pretty happy with what I have for now. I think the lights are still not bright enough, so I have to do a little bit of touch ups in the pictures. It's a little small and the lights are in the way. I want higher wattage lightbulbs, but the lamps says 60W maximum to "prevent fires". Does that mean I can put 100W bulbs in as long as I am careful?
I also considered using these and shine the lights through the sides. These can also be found at Target.
The light box adventure pauses for now. I think it's time I work on other aspects of the shop like *gulp* inventory and accounting.
Ooo by the way, do you have any tips for me about my setup? Thanks!!!